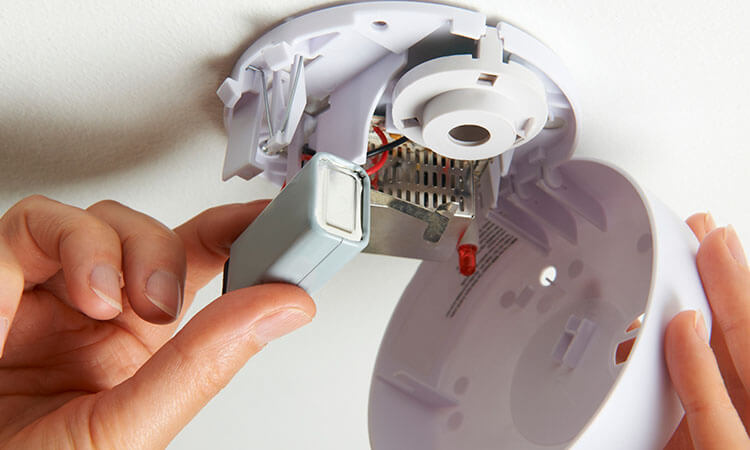 There are instances when our smoke alarm starts beeping for no reason. It can be bothersome and can cause unnecessary panic in the household. When this happens, you should know – how to turn off smoke alarm?
Smoke detectors  are a must, so you need to make sure they are working properly. Smoke alarms are pretty expressive when malfunctioning. It may be bothersome, but better safe than sorry. The better news is that there's no need for professional help when there's an easy solution. The answer, however, isn't as easy as tapping your alarm with a bat or broomstick until it stops, but we do have some helpful tips that should do the trick.
Stand-alone VS Hardwired Smoke Alarm
To know how to turn off smoke alarm, you need to determine first if you have a stand-alone or hardwired smoke alarm. You also need to define if the alarm is constantly beeping or setting off randomly.
Both hardwired and stand-alone smoke alarms require batteries, and both will beep once every minute or so to notify you when the batteries are low. The chirping can be annoying, but you can usually stop it by replacing it with new batteries unless they are sealed. In that case, the chirping indicates you have to replace your smoke detector.
Here are the steps on how to replace smoke alarm batteries depending on the type:
Hardwired (AC) Models

Turn off the breaker that controls the smoke alarm circuit or disconnect the smoke detector from the circuit. 
Remove the cover and the battery.
Press and hold the reset button for about 15 to 20 seconds. If the alarm chirps, hold the button until it stops.
Install fresh batteries and reconnect the smoke alarm back to the circuit. Turn the breaker back on if you turned it off. 

Standalone (DC) Models

Remove the battery. 
Push and hold the reset button until the alarm stops. It should take about 10 to 15 seconds.
Replace fresh batteries. The unit should alarm once to indicate that it's working properly, and then it should stop.
Sometimes, the cause of the alarm may not be the smoke detector battery itself. A loose connection in the battery compartment or an opened door in the compartment may also cause the problem. If the unit is hardwired, the noise may indicate that the circuit breaker tripped or the power went off.
Once you figure out the problem and find an appropriate solution on how to turn off smoke alarm, the chirping should stop. If it doesn't, you might need to reset the memory. Most smoke alarms hold a red reset button on the front. Pressing and holding this button can reset your smoke detector and stop the chirping.
Other Considerations
 Old batteries. Old batteries are the most common issue when it comes to beeping smoke alarms. Both stand-alone and hardwired systems require batteries, and as the power weakens, smoke alarms will beep every few minutes to indicate that you need to change them. 
Tripping a circuit breaker. Try to flip the switch on the breaker to see if the beeping ceases if you've got a hardwired smoke detector. Sometimes, we accidentally trip off the breaker, especially when doing maintenance routines.  
Reset button. If you have replaced the batteries or switched the power off through the breaker and the alarm is still beeping, the smoke alarm system may need to be reset. Standard alarms have a red reset button. Hold the reset button for 15 to 20 seconds and see if that doesn't do the trick. 
Manual reset. Remove the batteries and hold down the reset button for about 15 to 20 seconds. Put the batteries back and alarm. It will most likely beep once as an indication it is working; then, the annoying beeping noise should stop. If you have a hardwired alarm, make sure to switch the power breaker off before proceeding with the reset (and then turning it back on afterward). 
Poor maintenance. If resetting the alarm did not work, dust or dirt may be stuck between the wall and the detector inhibiting the sensors. Use a crevice tool to remove any debris on both the wall and alarm. Using compressed air can also help to clean the area thoroughly. This will help you on how to turn off smoke alarm. 
False alarms. If there is a false alarm and your smoke detector is beeping for a certain amount of time—at a particular hour, your smoke alarm is likely to be overexposed to a different number of elements. If you're getting constant false alarms, it may be for one of these reasons:

Exposure to steam from your shower or smoke from the kitchen
Placement of smoke detector is too close to a heating vent
Wide and sudden temperature changes in the room
Dusty air
If none of these conditions apply, you may have a bad smoke alarm. It happens. It's time to replace it with a new one. Know more about Smoke Alarms.
Conclusion
A smoke alarm that's constantly beeping can be annoying for any homeowner. However, it serves as a warning or signal that your alarm might be experiencing some problems. Thus, knowing how to turn off smoke alarm can always come in handy. Understanding how these devices work can help you maintain an effective and well-working device for your home's overall security.