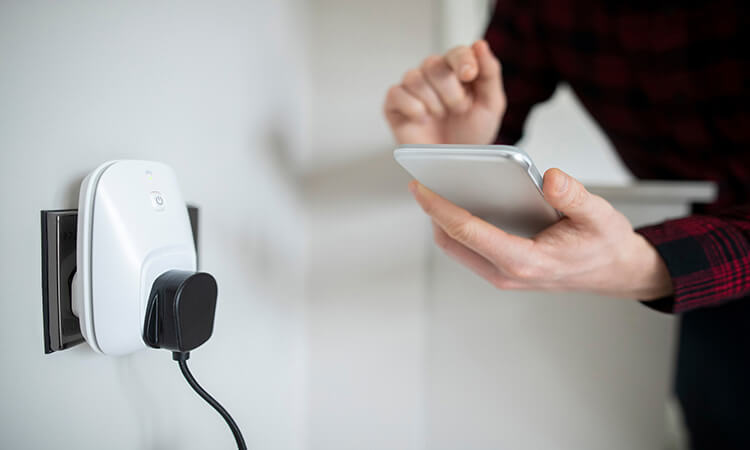 Are you planning to turn your home into a smart home? You can learn how to setup a smart plug with Google Home in this article. Google Home is a smart speaker with a built-in virtual Google Assistant that can recognize human speech and allow you to manage or control your smart home devices using your voice. However, learning how to add devices to Google can be confusing to start with.
On the other hand, smart plugs are used to incorporate lights and other devices into your home security plan. They make it possible for you to randomly and remotely turn on the lights, TV, and other appliances. You can also set a timer in scheduling your devices to turn on and off automatically while you sit back and enjoy your downtime. Plus, a smart plug act as an extra burglar deterrent.
What is a Smart Plug and Google Home?
A smart plug features a small adaptor that is plugged into a regular electrical wall outlet. Connecting it to a WiFi network will make it easy for you to automate and control small appliances and devices in your home. Once it's plugged in, you already have a smart outlet. What makes it smart is a connection to a mobile app that lets you control the outlet from your phone.
Once the outlet is smart, any appliance you plug into it becomes smart, which means that you can turn off a light or start the slow cooker with a swipe of your finger, no matter where you are. You may also program it and let the devices connected to your smart plug take care of themselves.
A smart plug enables you to turn on and off your appliance at home that plugs into a standard wall socket, controlled by an app. You will have the power to control it or automate that contributes a lot to your security system.
Meanwhile, a Google Home is a voice-controlled device powered by the Google Assistant. It can stream music, connect to smart home technologies, and browse the web for information on the weather, traffic, news, and more.
The Google Home app will show you the status of your home and keep you up to date with what you have missed. It enables you to check your home anytime and see a recap of recent events. You can also get a notification if something important happens while you're away. To maximize the benefits, you must learn how to setup a smart plug with Google home.
How to Set Up a Smart Plug with Google Home
The following is a step-by-step guide on how to setup a smart plug with Google Home:
Step 1
Set up smart home devices. First, you have to set up your Google Nest or Home device. You can set up your smart home devices by following the steps provided by the device manufacturer.
Step 2
Next is to connect smart home devices to your speakers and displays. Open the Google Home app then add "Set up device." For new devices, select your location and tap "Next." If it works with Google, then choose the manufacturer of the device from the list and follow the in-app steps to complete the setup.
Step 3
You are allowed to set nicknames for devices. You may choose names to call your smart home devices. First, you must open the Google Home app, select your device, choose settings, then tap Name. Then, enter the name of your choice and tap "Save." Nicknames you've assigned to smart devices in the Google Home app are not reflected in the device maker's app, and they are just alternative ways to smart devices reference.
Step 4
Assign devices to a room. To control your devices more easily, assign them to a room in a home. You can create a new home, create a new room, or add your devices to an existing room. Those are the simple steps on how to setup a smart plug with google home.