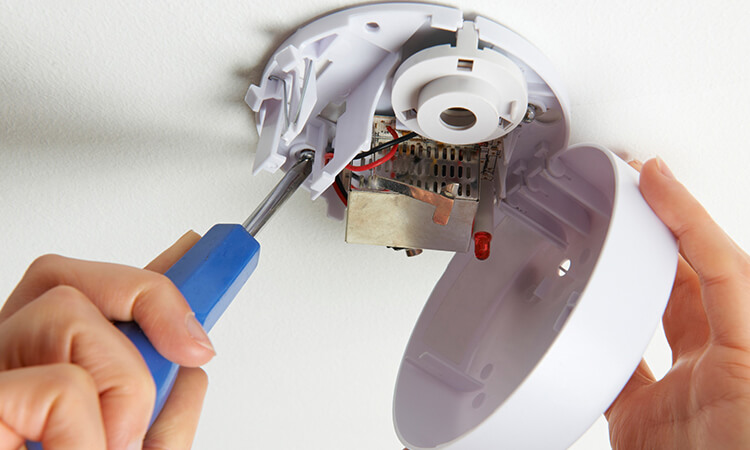 To make sure that your smoke detector functions well, you need to reset it sometimes. Resetting your fire alarm is also an option when these devices start to malfunction, give false alarms, or when your smoke detector won't stop beeping. Do you how to reset a smoke detector? Keep reading to learn how.
Why Use Smoke Detectors?
A well-maintained and correctly installed smoke alarm is one of the best ways to minimize the dangers of a fire-related injury or fatality. When you have smoke alarms placed in various locations around your home, they will contribute to the practical and fast detection of smoke.
At any given time of the day and night, your smoke detector siren will warn you of a potential fire, allowing you to quickly locate the nature of the problem and hopefully prevent further spreading that may cause damages. A smoke alarm is also an excellent device in helping firefighters find a fire more rapidly.
How to Reset Smoke Detectors
Many homeowners have a common problem when their alarm keeps on beeping even though they have already put in a new battery. If you have successfully changed the batteries and switched the power off via the breaker and the alarm is still beeping, the system may need to be reset.
That is why you need to know how to reset smoke detector to troubleshoot them on your own. Once you know how to reset the device, you can rule out that battery may not be the main problem.
Most alarms have a visible red reset button, which you can hold for 15 to 20 seconds to see if it does the trick. Some smoke alarms have processors that retain certain error conditions like a weak or low battery.
This error condition should reset when the battery is already changed, but sometimes it doesn't happen, and there's a need for a manual reset to clear the error. Follow these following steps to know how to reset smoke detector:
For Electric Smoke Detectors with Battery Backup:
---
First, turn off the main breaker in your home's breaker box to turn off the electrical.
Next, detach the smoke detector from its mounting bracket on the ceiling and disconnect the power cable to which the smoke detector is connected.
Remove its battery, then press the Test button. Hold it down for about 15 seconds. An alarm will sound brief; then, the alarm will silence.
Finally, place the battery in the smoke detector, reconnect the power cable and attach the smoke detector back on its mounting bracket. Once you turn the breaker on, the detector will chirp one time to indicate that the power was restored to the unit.
For Battery-Powered Smoke Detectors: 
---
First, take the battery out of the smoke detector.
Then, press the Test button and hold it down for about 15 seconds. An alarm will sound brief; then, the alarm will stop. You can also press the Test, Silence, or Hush button to reset the smoke detector if it has a blinking red light.
Finally, Put the battery back in the smoke detector. The detector will chirp one time to indicate the battery is connected.
---
Smoke Alarm Maintenance Tips
To avoid the inconvenience of frequently resetting your smoke alarms, it is essential to regularly test and clean them to ensure that they function correctly. Though you might have already known how to reset smoke detector, the following maintenance tips could help:
Smoke Alarm Testing
Check your smoke alarm regularly or at least once a month to ensure its battery is still charged and that the alarm is operating correctly. To perform the test, hold down the test button until you hear a loud alert sound, you may need to press the button again to turn the alarm off.
Vacuuming
Cleaning the smoke alarms with a vacuum is recommended once every six to nine months to remove dust buildup. Always make sure to use only a soft brush when cleaning.
Battery Replacement
Most smoke alarms battery needs to be replaced once a year. You will know when the battery needs replacement because the device will emit a short beeping sound. Always check the manufacturer's instructions when replacing batteries.
Conclusion
The proper maintenance of your smoke detectors is a must because it needs to function efficiently, especially during a fire emergency. A smoke detector that does not work is more of a hazard than not having one at all since it gives a sense of false security.
You already knew how smoke detectors work. Hopefully, you have learned how to reset smoke detectors. It is straightforward as it is, but it can improve your home security. It would help if you always thought that the faster you are alerted to the danger by your smoke alarms, the better is your chance of survival during fire emergencies. Know more about Smoke Detectors.