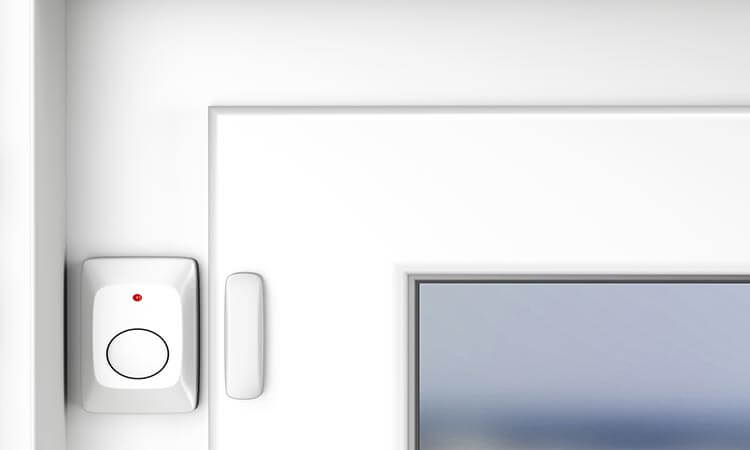 Our doors and windows are the most obvious choices of potential burglars to enter the home. Putting up sensors to these entry points is the best way, especially for your window sensors. You have to install it in every window, but it is not always easy to set up. In this article, you will learn how these things work. More importantly, you will know how to install window alarm sensors with this brief guide.
How Do Window Sensors Work?
Before answering the question, "How to install window alarm sensors?" first, we must learn how these things work. As mentioned, windows are the favorite entry points of intruders and having window sensors are an essential part of completing your home security system.
Most window alarm sensors consist of two pieces: the magnet and a reed switch. The magnet is the part that you fit on your window. The reed switch contains the circuit that controls the magnet via proximity. How do these parts work? When your windows shut, the magnet is close to the reed switch to close the circuit. But when the window opens, the magnet pulls away and opens the circuit, resulting in the sensor to alarm.
The Advantages and Disadvantages
Window alarm sensors are efficient home security devices; however, they have their advantages and disadvantages in using such things. Here are some of the advantage of using window sensors:
These detectors can detect someone, especially burglars or thieves, when they enter through your window with high accuracy.
You can use them as other detection devices and create a solid security perimeter.
The setting of the alarm will ensure that thieves will not try any funny business.
Here are the disadvantages of using window sensors:
You cannot detect if a burglary or theft happened, especially when the person did not open or break windows.
They also sometimes do false alarms.
Installing the Sensors
So, how to install window alarm sensors, you ask? First, you have to make sure the surface you set up the device is wiped clean. Each brand or company has its recommendations on how to install it. They are quite easy too. In this article, however, we will tackle how to install the most common window sensors. Here are the easy steps:
Stick your window sensor with a double adhesive to your chosen windows, usually in the corners.
Place the main alarm sensor on the window frame, and the smaller circuit piece on the windowpane.
Then, plug the connection wire into your sensor. Do this to all your windows. Then connect it to your control panel.
Locate the correct input points of your window sensors then connect to the control panel.
Power up your window alarm sensor to get it working.
Keep maintaining your sensors properly. Always check if they still stick to the frames and that their batteries are intact.
The Things to Consider
Now that you now know how to install window alarm sensors, you must also know what to consider if you have plans to add more sensors. They are inexpensive and easy to install. Here are some of the few things you need to consider when looking for the best window alarm sensors:
Alarm Settings
Window alarm sensors have different levels of volume in the alert settings. Find those that reach 100db to help you wake up from deep sleep.
Remote Notifications
You can sync your window alarm sensors to get notifications or alerts about the possible intrusion.
Keycodes
To make them more efficient and safer, you can use built-in keycodes to make sure burglars cannot work their way around.
Here are more tips to help you find a great window alarm sensor: 24/7 monitoring option, the ease of installation, immediate responses; good customer service; and newer modern equipment.
Conclusion
Now you know how to install window alarm sensors without having to resort to professional help. All that is left for you to accomplish are to apply the things you have learned of window alarm sensors. Remember that using window sensors have positive and negative reactions.
Also, you should consider some of the things mentioned in the article, like alarm sensor setting, remote notification, and the use of keycodes. You need to make sure that the window alarm sensors you bought work just fine. Just remember the guidelines and tips. You will do fine. Here's how to learn more about Window Alarms.