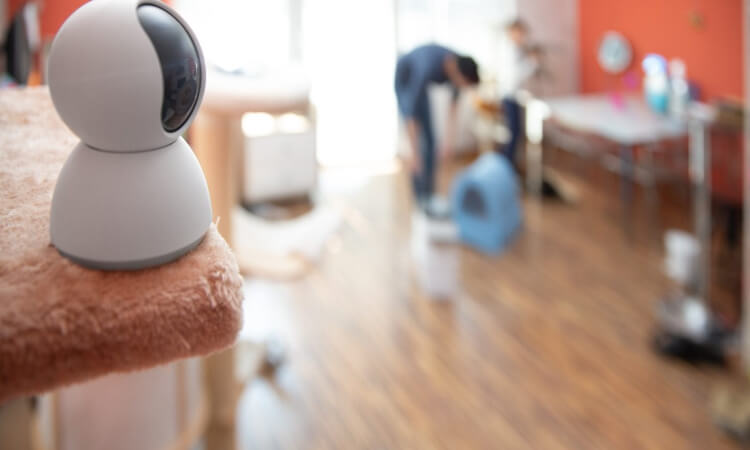 DIY Security Systems/How-To Guides
Safety and security are our priorities when it comes to building our home for our family. It is to make sure that there will be no harm that can happen to them. We need to look for the best quality materials to build our home and the top security system to have better surveillance of our home. When it comes to surveillance, we have different types of spy cameras to install around our house. Some of them are wireless, and some aren't. The most common one is the wireless spy camera because of its convenience. But how to hook up wireless security cameras around our house? What you need to do is to be wise enough to hide the camera and can still watch over your home.
How To Install A Wireless Home Security Camera System
Learning how to hook up wireless security cameras at home is easy. All you need to do is find the right spots where to install them and make sure that no one can see them easily. If you are still not confident about installing the camera in your home by yourself, here are some DIY tips on how to do it correctly.
Know what kind of security camera you have
Every security camera has a unique feature. Although all of these cameras have the same function, the way you set them up is different. Some have motion sensors, while others don't. Also, the type of camera lens is different from every camera because some have zooming features, and some don't. Getting to know what kind of security camera you want to install will make it easier for you to find the right spot where to place them. It is to maximize the full potential of the spy camera and to make sure that it can capture all angles of where you want the lens to aim.

Find the angle and height.
Finding the right angle is a bit tricky. Sometimes the angle is perfect, but there is no solid base where you can mount the camera. Finding the best of both worlds is a trial and error. Also, the height of where you want to install the camera is another thing. It should match the angle and have enough base support to hold the camera. In the worst case, you might have to build a stand to keep the angle and height. But if your place has a lot of trees or corners, then you are good to go.

Double-check the mounting bracket
The brackets that come with the camera are plastic. Although not all of them have the same material, it depends on the type of wireless camera that you have. But if you want to be sure that it can keep your camera in its place, get a metal bracket. It can hold the camera better because of its solid body.

Use a smaller bracket screw
Bracket screws are often large or fit just right in the bracket. The downside of this is it ruins the placement of the camera. But if you want to keep the angle perfect, use smaller bracket screws that fit in the bracket where the head of the screw will be buried in the mount. It can hold the bracket in place and, at the same time, giving the right placement of your camera.

Insert the necessary batteries
As part of learning how to hook up wireless security cameras at home, it is to know the right batteries to use. One crucial thing that you need to watch over is the amount of energy that the batteries have. Ensuring that the batteries are full will last for a long time, and you will no longer have to replace them regularly.

Connect the camera to your phone and mount it on the bracket
Once the mounting bracket is all set, then the batteries are already in the camera, what you need to do next is pair the camera to your phone then mount it on the bracket.
Common Wireless Camera Installation Mistakes
DIY installation of wireless cameras is easy and fun. You get to decide wherever you want to place them. But there are also some common mistakes that you are unaware of when it comes to installing the camera.
Few cameras
Some people only use one or two security cameras. But for you to keep your home secured, you will need more than two to place around your home.

Poor placement
Placement is one thing you should think about when learning how to hook up wireless security cameras. Poor placement will make the camera useless.

Wireless cameras are not entirely "wireless."
Some wireless cameras still need a wire or two for power supply, especially for solar-powered cameras and motion sensors.

Forgetting the password
All wireless cameras have their unique password so that you can easily connect them to your phone. If you forget the password, it will be difficult for you to reset or reboot the camera.

Forgetting about the "remote access" feature
Not all security cameras come with the "remote access" feature. If you are going for a wireless security camera for your home, this is the feature you need to look for in a camera. Because anywhere you will go, you can still monitor and have an emergency backup copy of what the camera recorded.
DIY Installation vs. Professional Installation
Learning how to hook up wireless security cameras yourself is easy as long as you follow the instructions step by step. Also, it will be a lot easier if the camera has simple features, and that you have the right tools for installing. But if you have a camera with advanced features, it is time for you to contact a professional to install it for you because these professionals will know what to do and where to install the camera to maximize its potential. Find out more about Home Security Systems.
Conclusion
Learning how to hook up wireless security cameras around your house is for you to get to know the kind of security camera you have. If you think the features of the camera is simple, then you can install it yourself easily. But if there are components where you can't understand, better leave it to the professionals. As long as the cameras will be up and working around your house, you and your family are safe and sure to live a secure life.