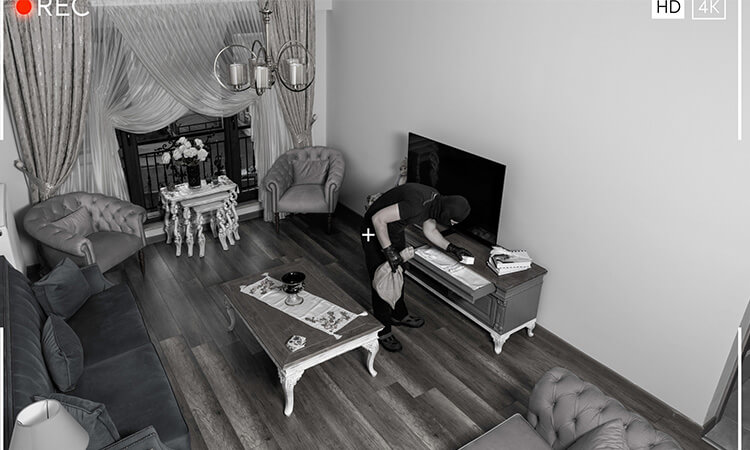 Microphones and cameras can be sneaked in all sorts of places to spy on undoubting people. It is illegal in most areas to record without proper notice; however, that doesn't always mean that you're not being recorded. If you feel your privacy is being violated, conduct a thorough physical search, use the technology available to you, and learn how to detect hidden cameras & listening devices.
Conduct a Physical Search
Listen for soft buzzing or ticking noise to detect a recording device. 
Hidden cameras are designed to be as discreet as possible, but many will still emit a slight sound when working, that's how to detect hidden cameras & listening devices. When the area of suspected surveillance is as quiet as possible, walk around slowly to listen to any buzzing or slight clicking noises coming from a hidden camera. Search the room late at night to minimize outside noises, and to isolate and locate sounds emitted by recording devices.
Examine smoke detectors and other electronics. 
Hidden cameras and recording devices can be hidden inside other devices that need electricity, like smoke detectors. Take your smoke detector down and look for a microphone or camera inside. Look into your speakers, lamps, and other electronics for any sign of tampering, which may indicate an added microphone. 
Look for decorations that seem unusual or out of place.
One of the most common ways of sneaking a microphone or camera in a room is by hiding it in something unobtrusive, such as a teddy bear or a vase of flowers. Examine the room for any decorations that seem unlikely or are angled in peculiar ways. While most cameras can be hidden inside something, the lens still needs to be completely visible for the camera to work. Check for suspicious decorations on glassy surfaces or visible lenses that might indicate a secret camera. Hidden microphones work best when they're in the center of a room to hear everything equally. Look for details positioned on a table in the middle of your room and look for hidden microphones
Check for peculiar wires that don't lead anywhere. 
Most hidden cameras and microphones are connected to a power supply. Look around the electronics and power outlets for wires leading into anything that doesn't need power or wires that you don't recognize.
Check light fixtures and the battery in your vehicle. 
Cameras and microphones can be planted in your car to record or track you. So, how to detect hidden cameras & listening devices? Examine any light fixtures or your vehicle's battery for any unusual wires or devices. 
Use your flashlight to check for two-way mirrors. 
Two-way mirrors make the perfect hiding place for cameras since they look like a mirror on one side and a window from the other. If you're suspecting a mirror is two-way, what to do on how to detect hidden cameras & listening devices is to turn off the lights and press a flashlight against the glass. If it's a two-way mirror, you'll see the room on the other side. The easiest way to deal with a two-way mirror is to cover it with a sheet, paper, or another mirror.
Search for Electric Signals
Sweep the room with an RF detector. 
RF detectors enable you to scan for radio frequencies emitted by hidden cameras and microphones. The detector will give off a small beeping or crackling noise when pointed at an item that gives off radio frequencies.
Listen to any interference when making a call.
Many hidden cameras and microphones transmit a small electromagnetic field as they send data. Make a call on your mobile phone and walk around the room as you talk. If you hear any clicking, crackling, or buzzing on the phone, it can indicate that you're entering the field of a surveillance device.
Use a smartphone camera to look for infrared lights.
Most smartphones and digital cameras can see infrared light invisible to the human eye and can be utilized by hidden cameras. Scan your camera around the room and check the display for any unexpected light sources or flashes, which might lead to a hidden camera.
Look for unusual Wi-Fi signals on your phone or laptop. 
Some modern cameras and microphones transmit data over the internet, making them accessible almost anywhere. However, they often also have Wi-Fi signals. Search for available Wi-Fi signals and look for unexpected or suspicious networks is also an effective way on how to detect hidden cameras & listening devices.
Wrap Up
Nowadays, you can never be too relaxed when alone in a room. You'll never know when your private moments are being recorded. That is why it is a must to understand how to detect hidden cameras & listening devices. By doing so, you can identify and stop any attempt before they can be used against you. Your privacy and safety should always be your priority. Make sure you're free from any eavesdropping, only then can you truly enjoy your private time. Here's how to learn more about Hidden Cameras.