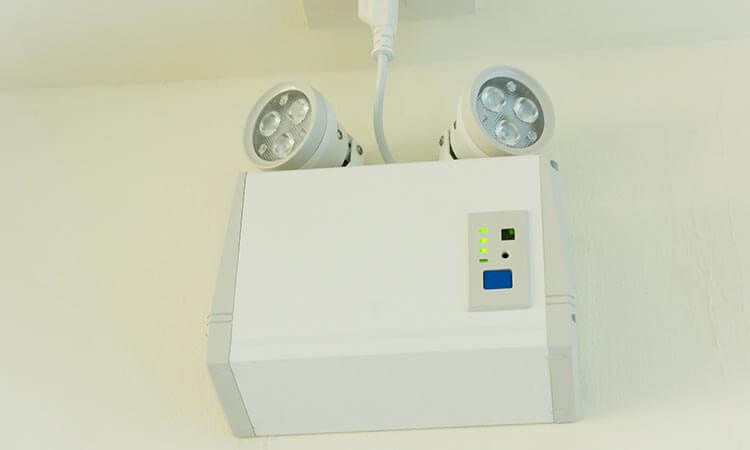 Emergency lights give you a feeling of security wherever you are. A lot of commercial spaces offer emergency lighting to ensure visibility during emergencies. There are also a lot of affordable emergency lights that can be put up at home to improve your home security. Changing a regular light bulb is one thing, but knowing how to change emergency light bulbs is an entirely different story. 
It may sound challenging for now, but we are going to teach you the basics every step of the way. 
Primary Components Of Emergency Lights 
The primary purpose of emergency lights is to provide lighting to a facility in the event of a power loss. It keeps the battery fully charged by getting power from a building's power grid. 

Emergency lights are typically made of the following components: 
Housing that contains the battery- This housing has DC light bulbs in its reflective lamp heads. The bulbs are battery-powered, and the circuit board and the transformer recharge these batteries.
Circuit board – The circuit board is activated by a power loss. It turns the unit on for emergency lighting.
Types Of Emergency Lights
Emergency lighting can either be maintained or non-maintained. Maintained lights are always ON, even in the event of a power failure, and in effect, consume more energy. Non-maintained lighting only powers up in the event of a power failure. It consumes less energy but regularly charges its batteries through the power grid. 
Now that we know how it works, let's get to its two main types: 
Exit Lights
These lights are located above the exit or closest to the exit. It is the bright EXIT light you see over exits in a movie theatre, an aircraft door, or over the emergency exits of your favorite mall. Egress pathway lights are made of glow-in-the-dark, floor-mounted led bulbs that guide people towards the exit in the event of a full-on blackout. You will see these lights on aircraft and theater aisles. 
If your sign isn't lit, you should check on the following:
Check on the main bulbs – Main bulbs in an exit light are usually maintained. This means they stay on the whole time. If the main bulbs are flickering or are not well lit, it might be time to change them.
Low voltage bulb – These are the secondary bulbs that power on in the event of an emergency. If these bulbs are not functioning well, your emergency lights will fail to work in a power outage.
Check on the battery – Sometimes it the battery might be the problem and not the bulbs. We must eliminate this possibility first before moving on to other solutions. 
How to change emergency light bulbs on an exit light
Some stores provide the specific light bulb for your emergency light. The bulbs on an emergency exit might look like round rotating spotlights. After you purchase the new light bulbs you can go ahead and start the replacement:
STEP 1 – Wear gloves when handling light bulbs
STEP 2 – Use a screwdriver to open the cover of your emergency exit light. There is a little gap on the side of the lamp that will allow you to pop the cover open with a screwdriver. 
STEP 3 – Slide the bulb to its proper place. You will be able to hear a clicking sound the moment you put it into place. 
STEP 4 – Put the cover back. 
NOTE: You must always make sure your battery is working.
Temporary or standby lighting
Power outages are unexpected. And in places like hospitals, where light is critical, temporary, and standby emergency lighting becomes essential. Here are the types of temporary lightings:   
Thermoplastic – affordable indoor emergency lights
Steel – Used for warehouses and other industrial areas.
Wet location – these are waterproof lights that can be used in freezing temperatures
Architectural – aesthetic lights that blend well with the interiors
Hazardous location – These lights are used in extreme environments
An important tip on emergency light replacement is to replace them with LED lights. LED lights save more energy and last much longer. There are retrofit LED lights available on the market that you can use to replace burnt-out light bulbs. 
How To Change Emergency Light Bulbs To Retrofit LED Lights
Step 1 – After choosing the LED light, attach the LED light with the blue and red wires to the original housing.
Step 2 – Make sure your batteries are connected as well.
Step 3 – Label the light and batteries with dates, so you know when it was last changed.
Step 4 – Upon connecting, check if the charge light is on.
Step 5 – Remove the plastic from your LED light.
Step 6 – Test your retrofitted LED emergency light
Understanding how to change emergency light bulbs for exit and standby lights has become simpler because of the availability of affordable replacements. Safety always comes first, so you must wear gloves and ensure that the power is switched off before doing anything with your emergency lights. 
Tips When Handling Issues On Emergency Lights
Changing emergency lightbulbs is just one solution. Your emergency light could have many other problems. Here are some tips when managing your emergency lights:
You have to be well acquainted with your equipment. An emergency can happen anytime. You can deal with one-time maintenance issues and more high-pressure emergencies if you are familiar with your emergency lighting. 
Always check the manual. The manual contains a lot of information on your emergency lighting system that could come in handy in an emergency.
It is important to keep spare batteries for your lights. Emergency lights function on batteries. It could malfunction or burn out anytime. 
The most important thing about owning any form of emergency equipment is to have a clear emergency plan. In this case, map out your exit route in the event of an emergency. Lights are meant to guide people, but an escape plan will make use of emergency lights' true potential. 
Conclusion
The best way to keep emergency lights working is to understand how they work and understand the necessary emergency lighting upkeep. You don't need to be a professional electrician to know how to change emergency light bulbs. This information can be especially useful for you during critical times. A little know-how can save a lot of lives.  Here's how to learn more about Emergency Lights.