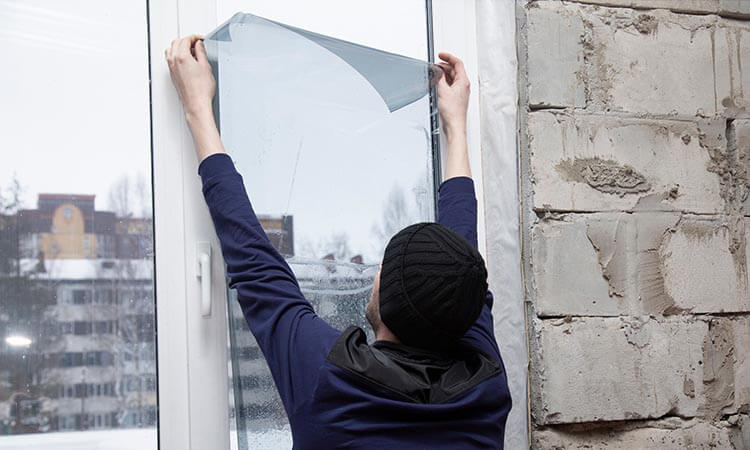 If you know how to apply window films to your home's windows, you'll enjoy a quick and easy way to lessen heat and sunlight glare, but you'll also have a great way to decorate! Black or opaque window film is the top choice if you want to decrease sunlight entering your home as well protect your home and your family since it increases your home's privacy from prying neighbors.
On the other hand, if you want to bring a little bit of color and life into your rooms while on a budget, you can add decorative cling film on your windows. Luckily for you, decorative window film comes in any color you might want! This easy guide will teach you how to put on window film, the benefits of doing so, and what materials you need.
How Does Window Film Work?
Window film is a sheet of polyester film that has a self-adhesive surface. You can retrofit window film on any glass surfaces, like windows, in your home and office, as well as your automobiles, RVs, and boats.
The film acts as a barrier against all forms of solar radiation. It blocks visible light, infrared light and heat, and ultraviolet light. High-quality window film reduces the amount of visible light and heat that passes through the film as well as blocks most infrared and UV light.
There are several benefits that you can enjoy when you use window film.
First, the amount of heat and light entering your home will be reduced, which means that your home's air conditioning unit will not work as hard to regulate your home's temperature. You will be increasing your home's energy efficiency as well as saving money on your electricity bill.
Second, UV light fades your upholstery and valuables. By blocking the amount of UV light coming in, you can keep your furniture and other valuables looking new.
Third, UV light causes sunburns and is a known risk factor for skin cancer. Reducing the amount of UV light coming into your home will help keep you and your family safe from skin cancer.
Finally, using a decorative window film is a quick and easy way to decorate your home. When sunlight passes through colored window film, the sunlight takes on the hue of the film. Light colors such as pink and pastel blue will give your room a light and airy environment, while bold colors such as red and orange will give an energetic vibe.
The Pros and Cons of Window Film
Here are the pros and cons of using window film:
Pros:
Can Fit Any Budget
Window film comes in a range of prices depending on the quality of the film. The price is per square foot. You can get good quality window film for as long as $10 per square foot, all the way to $110 per square foot for high-end window film from known manufacturers.
Wide Variety of Film Available
Window film comes in both decorative and functional types. If you want to use the film as décor, you can get a cheap colored film. However, if you're looking for a film that can block out sunlight, UV rays, and heat, you can opt for an insulation window film.
DIY Application
If you choose to apply your window film on your own, you'll save money and have a fun and quick DIY project. However, if you're using expensive window film, you should get it professionally installed.
Cons:
Difficult to Apply Evenly
Self-adhesive window film is lighter and thinner compared to static or clings window film. Thus, it can fold, wrinkle, or stick to itself while you are applying it.
Prone to Peeling and Bubbles
Over time, the adhesive in the film can fail, especially if you use a cheap window film. When the adhesive fails, the film will start peeling or bubbling.
Cheap Films Will Not Last Long
Low-quality window film will crack, chip, or fade/yellow quickly.
---
What Do I Need to Install Window Film?
Before we'll teach you how to apply window film, here is what you'll need to install your window film:
Lint-free cloth
Spray bottle
Squeegee
Measuring Tape
Utility Knife
Liquid Detergent/Baby Soap
Pen
How to Apply Window Film in 5 Easy Steps
Here is how to apply window film to your windows in five steps:
Clean your window with a mixture of water and baby shampoo to remove dirt, debris, and another residue. Allow the surface to dry completely.
Using your measuring tape, find the exact measurements of your window, and mark the measurements with a pen.
Cut out the measures on your window film using your utility knife.
Remove the protective backing from the window film.
Slowly place the window film on the window surface, sticky side down. Work the film's surface with your squeegee to remove any air bubbles until you have placed the whole film on your window.
---
Should I Install Window Film by Myself?
In general, doing a "how to apply window film" DIY project is a quick and easy task, especially if you love DIYs. If you're placing a decorative window film, you can install the film by yourself. However, if you're using expensive, branded window film, trying to install it by yourself can be costly if you make mistakes. If this is the case, you should consider hiring a professional to install the film correctly. Know more about Window Films.
Conclusion
The best thing about learning how to apply window film is that it's a task that you can do confidently over and over once you've successfully done it once. You can repeat the same project in your office and your cars after you've applied window films to your home's windows.
That way, you can enjoy all the benefits of having window film and congratulate yourself on a well-done DIY project. And since window films can help provide security and privacy as well as increase home safety, you'd feel safe and secured at home. Once you have the confidence to install window film successfully, you'll have the confidence to try other easy DIY projects in your home.