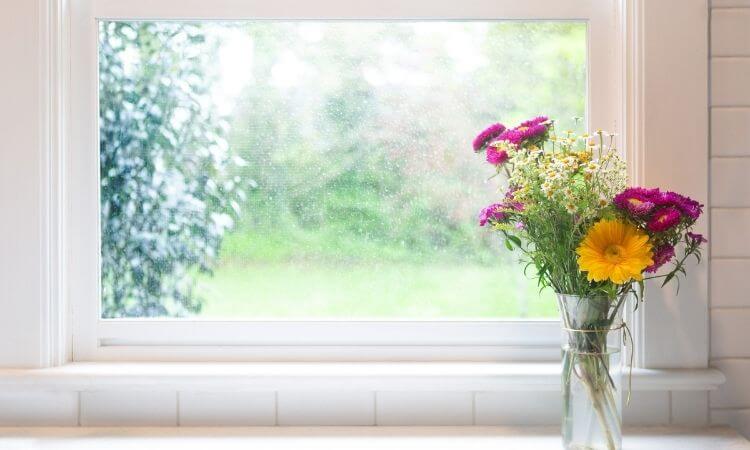 Knowing how to apply non-adhesive window film in your home is not only a cheap and effective way to increase your privacy, it's also a great way to increase the visual aesthetic. Non-adhesive window film gives your home an air of mystery and elegance, and if you choose decorative decals, it's a quick way to give your home a pop of color.
What Is Adhesive-Free Window Film?
Adhesive-free window films use static instead of glue or other adhesives to stick to the window surface. This is why adhesive-free window films are also known as "cling window film." The static on the surface of the film provides a strong connection to the surface of the glass. This connection can last for years and will stand up to rain, sunlight, and extremely cold weather as long as grime or dirt does not squeeze into the space between the film and the window.
Once you are done with the film or want to replace it, you need to peel back a corner and continue pulling to remove the whole sheet of film.
Non-adhesive window films come in a wide variety of colors and designs. If you want to increase your home's privacy and decrease the amount of light coming in, a sheet or two of the opaque or black film is an excellent choice. You can also choose from a decorated film or decals to bring together whatever motif you choose. Light pastel films give the room a sense of openness and space, while cool colors such as blue or green give a sense of calmness and peace. If you choose red or yellow film, you're injecting a sense of vibrancy and energy into a room.
The Benefits of Using Adhesive-Free Window Film
The most obvious benefit of adhesive-free window film is that you won't leave any sticky, hard-to-remove residue on the windows. Using adhesive-free window film is a great way to decorate your windows cheaply and without damaging the window's surface if you are renting your home or apartment.
Another benefit is that adhesive-free films are heavier than adhesive films, so they are easier to apply straight to the windows. You won't have as much trouble with air bubbles or crooked film. If the film accidentally sticks to itself or the floor, pull it apart, clean off the debris, and cling to the window surface without any problems.
Finally, placing the adhesive-free window film on your windows will increase the energy efficiency of your home. The film will reflect light and keep heat out, so your HVAC won't work as hard to keep your home cool and comfortable.
What to Do Before Applying Non-Adhesive Window Film
If you want to know how to install a cling window film properly, you'll need to take a bit of time to prepare your windows. Clean the surface of the window well with soap and water to remove dirt, grime, and other debris that can hamper the sticking power of the film.
After you've dried the window surface, place some glass cleaner on a clean rag and give it a final wipe down to ensure that you've removed all errant particles. Finally, run a squeegee down the surface of the window to remove any fine dust and soap residue.
Remember, the cleaner and drier your window surface, the more effective the cling film will be. If you do it properly, you'll enjoy a window with a beautifully placed cling film on top for years.
What You Need on How to Apply Non-Adhesive Window Film
Here are the materials that you will need on how to apply non-adhesive window film:
Clean rag
Spray bottle
Liquid dishwashing soap
Window cleaner
Squeegee
Utility knife
Measuring tape
If you want to make your application more accurate, you can use tools such as a pencil and a straight edge to measure your film.
How to Apply Non-Adhesive Window Film in 5 Steps
Here is how to apply cling window film in 5 steps:
Unroll the film on a wide surface and lay it flat.
Fill your spray bottle with water and a few drops of dishwashing liquid, and liberally wet the cleaned window surface.
Remove the protective backing from the cling film.
Place the shiny side of the film against the wet window surface.
Using your squeegee, slowly work the film onto the window surface, starting from the center to the outer edges. The squeegee will help you remove any tiny bubbles that may be trapped under the cling film.
If you are unhappy with the placement of the cling film, gently peel it off the window and reposition it. Use both hands to evenly and slowly peel the film so that it does not tear or stretch. Watch out for any dust or debris that can land on the statically charged surface while you work.
Remember, the best way to install a cling film is by taking it slowly!
As you work out from the center, make sure to use your squeegee to press the cling film firmly against the surface of the window and remove trapped air bubbles. Trapped air bubbles will not only reduce the bond between your film and the window but also make the final product look rushed and unprofessional! No one wants to see air bubbles trapped under their cling film because it ruins the illusion of the décor Once it is applied, the window film will not only add to your safety at home but will also make it look beautiful.
Conclusion
Now that you know how to apply a non-adhesive window film, you might be wondering what to do with any leftovers! You can add those small leftover bits to smartphone covers, wooden shelves, or even cabinet surfaces to give them a little bit of color and life. The static will work just as well on wood and plastic. Find out more about Window Films.