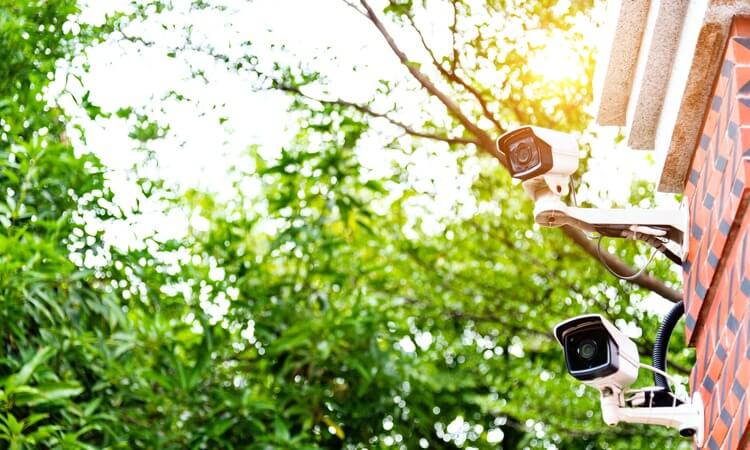 Over the years, there's a rising demand for security and surveillance cameras to monitor the safety and welfare of our home. Though, there is this notion that surveillance cameras and security vary from each other. That's why it is important to know what's the difference between surveillance cameras and security cameras.
What's the difference between surveillance cameras and security cameras? Are they any different? Are they similar in terms of purpose? In this article, we'll dive down more into the difference between surveillance cameras and security cameras. Before we start, we'll break down the simple details of surveillance cameras and security cameras.
What Is a Surveillance Camera? 
An act of monitoring a designated area carefully to deter or prevent crimes from happening is called surveillance. When you talk about surveillance, it is often associated with crime prevention, especially regarding your home and everyone's safety. 
When we talk about surveillance, they are associated with CCTV. These systems are based on a comprehensively placed number of a camera in a certain place that captures live footage that can be broadcasted in real-time or through a recording. CCTV systems have specified storage for future preference.
What Is a Security Camera?
The purpose of surveillance indeed is to provide security and safety in a specific place to deter possible crimes. What's different about protection from surveillance is that security takes it to a whole new level. Meaning, they are more than capable when compared to surveillance in providing high-level security and safety. 
One good thing about security is that there are numerous scenarios wherein your home or family can be put in harm's way that is necessarily linked to the crime. The security system involves flash floods, fire, and all sorts. 
They are more than just surveillance cameras. They have sensors that detect dangers incoming whereas compared to surveillance cameras wherein they are closely monitored through the use of external monitors with an expert. Also, security cameras use CCTV as much as surveillance cameras do. That's why it is good t know what's the difference between surveillance cameras and security cameras. 
Pros and Cons of Security and Surveillance Cameras
As we drive down deeper on the difference between security cameras and surveillance cameras, we'll first show how they match up with each other in the PROS and CONS department.
Security Cameras
Some of the best surveillance cameras are said to be an effective choice for protecting the perimeters around your home or office. Understand the Pros and Cons when having security cameras. 
Pros of Security Cameras
Deter Crime
This is the most important use of security cameras. Wherever which area they are placed on, the sight of a security triggers fear amongst the thieves and burglars. When a burglar or thief spots a security camera, they are usually deterred in doing their crime.
Great at Observing Movements and Activities
Security cameras are easily placed anywhere as long as there is power. Security cameras are easily mountable in tight corners or high ceilings. Also, they cover a wide area and monitors the activity of people moving in and out of your house.
Great for Evidence
Security Cameras that are strategically installed offers tons of advantages; they are an effective way of monitoring dialogues and actions made by people in that designated area. With the advancement of technology, security cameras can easily pick up audios and videos in high-quality formats.
Cons of Security Cameras
Price
Compared to surveillance cameras, security cameras are quite costly in terms of installation, price, and maintenance. Depending on what type of camera features they have, security cameras are expensive. However, over the years, the price of security cameras has gone down to cater to the masses.
Susceptibility
Cameras that aren't strategically placed are usually susceptible to animals or other burglars. That is the reason why it is important to have the proper knowledge of where to place your CCTV cameras at home. The use of Security cameras that isn't wireless has made them useless when thieves easily cut those power lines. Renders them useless and ineffective.
Privacy Issues
It is the most complicated part when having security. Some security cameras invade the privacy of other people. It's the sole reason why many people are against it. 
Surveillance Cameras
Over the years, the use of surveillance cameras has soared to greater heights. They are cheap alternatives to security cameras, and the crime rates have gone higher too!
Everyone's Safety
Surveillance cameras are best used in public places as more countries seek surveillance cameras to survey areas where crimes are rampant. It helps them detect and hold criminals and other bad elements that surround the streets.
Minimizes Crime Rates
When surveillance cameras are present in criminals' vicinity, they are less likely to commit crimes because of the fear of getting caught by police and law enforcers. Moreover, when suspicious people surround the area, these areas can be cleared and closely monitored until the suspicion is gone.
Cost-Effective to Monitor People
They are relatively convenient to use since you can easily access surveillance footage on the internet or even your phone.
Cons of Surveillance Cameras
Complexity
If you are not tech-savvy, it may be hard for you to install surveillance cameras and may require hiring experts.
Cost
Surveillance and security cameras are expensive, especially when considering the installation process and things to buy to upgrade the system
Surveillance Abuse
The use of surveillance videos can be easily used to blackmail an individual or be used for black propaganda.
Conclusion
CCTV is an excellent product to help detect, capture, and prevent activities done when you are not around. However, surveillance can't detect potential dangers such as flash floods, home invasion, fire, and all sorts like a Security System does. 
Furthermore, Surveillance and Security cameras are needed to protect the welfare and safety of your family in the comforts of your own home. That's why you should understand what's the difference between surveillance cameras and security cameras, as these products provide peace of mind.
Learning what's the difference between surveillance cameras and security cameras doesn't necessarily have a big impact when you talk about protecting everyone that you love. With them, we can help provide safety and protection for the people who we owe our lives for. We should be thankful for these technological advancements as they paved the way for us to live peacefully. No matter their differences, the protection and safety of our family should remain our top priority. Know more about Surveillance Cameras.