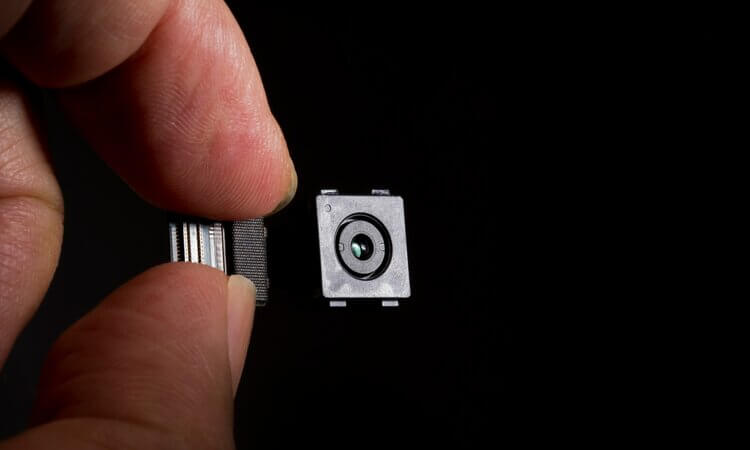 As a busy professional, we know you don't always have time to keep track of what's going on at home, especially when you hired a nanny to take care of your kids. But, many incidents have made parents particularly cautious of the people to whom they entrust their precious little ones. So when you're stuck at work, and you have a nanny at home, having one of the best nanny cameras for home can be an advantage. A nanny cam will let you monitor the situation completely and discretely, whether you are at work or at the supermarket. If you're planning get one, check out our list of the 7 best nanny cameras for home.
Comparison Chart
A Detailed Review on the 7 Best Nanny Cameras For Home
SIRGAWAIN Mini Spy Camera
---
With the SARGAWAIN Mini Spy Camera, you can look after your home, even when you're out.
Product Highlights
This ultra mini camera is a compact, wireless security camera that measures less than one square inch. It has a motion detection feature that records videos when motion is detected and has a loop recording function 24/7. It's easy to operate and has 1080P full HD video, 12MP photo, and night vision modes.
The Good
What we love about this camera is that it is easy to hide and has loop recording, so you won't miss anything. Its 150° wide-angle lens ensures that you can see more. Its night vision is also a plus although it measures less than a square inch. It produces good-quality photos and videos despite its size. It also comes with a one-year warranty and 24/7 after-sales support.
The Bad
Some users noted that the camera's battery drains very easily plus the SD memory card is hard to put in and take off.
PROs
Easy to hide
Motion detection feature
Night vision camera
Ultra compact mini camera
Wireless camera
Loop records
CONs
Battery drains easily
SD card sold separately and can be difficult to put and remove
Divine Eagle Spy Camera Charger
---
Make protecting your kids from bad nannies or caregivers, with a mini USB charger spy camera from DIVINEEAGLE .
Product Highlights
If you are looking for one of the best nanny cameras for home, then DIVINEEAGLE does not disappoint. It is a compact security camera in a small USB charger that records 1080 FHD video with a viewing angle. It's a perfect spy camera that has an IQ motion detection with a loop recording feature. Though the size is small, it has a wide-angle lens and a quick plug and play feature.
The Good
This spy camera looks like a phone charger, so it's unlikely to be suspected as a camera. You can even leave it lying around, and no one will ever notice. It's a smart 2-in1 device that works like a USB charger but also records clear videos as well.
The Bad
Just like the previous one, this camera also doesn't have cloud storage and Wi-Fi connection, so it can't be accessed in real-time. Plus, it has no night vision, so if someone turns off the light, the video footage is ruined.
PROs
Motion detection
Camera is pre-concealed
Charger is fully functional
SD card storage
1080 FHD
2-in1 USB charger and camera
CONs
No cloud storage
No Wi-fi connection
No night vision
Arenti Indoor Home Security Camera
---
The Arenti Indoor Home Security Camera gives you an uncomplicated way to check your kids at home while you're away.
Product Highlights
This home security camera by Arenti is quick and easy to install. It has AI-powered human detection, making you feel more secure that you will see all the things that are happening while you are away. You can also view the live stream directly to your smartphone or tablet. The Arenti app is also a great way to manage all your preferred settings.
The Good
Users love this device packed with features for monitoring your home activity, anytime, anywhere. The camera records a 1080p high definition video, 24/7 full surveillance, night mode, and two-way audio. In addition, it is WiFi ready, has cloud storage, and works with Alexa and Google Assistant.
The Bad
Apparently, some users noted that connection is not always a breeze. Trouble may be encountered when connecting to wi-fi or iOS devices. This camera also doesn't work with a 5G connection.
PROs
1080p video recording
24/7 surveillance
Night mode
Two-way audio
Cloud storage
Works well with Alexa and Google Assistant
CONs
 App issues when using an iOS device
Not compatible with 5G
May be difficult to set up the wi-fi connection
Echo Show 5 Sandstone with Blink Mini Indoor Smart Security Camera
---
The Echo Show 5 Sandstone with Blink Mini Indoor Smart Security Camera is a great solution if you want to get something that's a bit more high-end and from a brand that is a bit more reputable.
Product Highlights
Blink is a household name for home security cameras, and it works admirably as one of the best nanny cameras for home out there. It's straightforward to set up, works on batteries, and has a few smart features. It records a 1080p video, the quality is good with no blurring, no distortion, and no image loss. It also features motion detection that records clips when movement is detected and sends a push notification to your phone. You can also stream live via the app and best of all, the cloud storage service is free. Paired with the Echo Show 5, you have a powerful smart home bundle that allows you to do more than your average home security camera.
The Good
The best part of having this Echo Show 5 Sandstone with Blink Mini Indoor Smart Security Camera is the combination of home security and entertainment. You can stream the videos from the Blink Mini via the app so you will have real-time updates on what's going on in your house. When you are at home, maximize the Alexa function and pair your Echo devices for the complete smart home experience.
The Bad
Most of the complains about this device are about the large ads and suggestions that occupy almost the whole screen. The sound can also be a bit muddy and video playback may lag from time to time.
PROs
Plug and play device bundle
1080P high definition indoor camera 
Simple self-install camera
Settings can be set and monitored via the Blink app
Alexa compatibility
CONs
Delay in recording
Full of ads that can be distracting
Sound is not the best
KSADBOSSBO Mini Hidden Spy Camera Portable Small
---
Designed to provide total peace of mind, this mini hidden spy cam by KSADBOSSBO, will never let you feel far from home.
Product Highlights
One of the best nanny cameras for home in the market, this mini spy camera is very easy to use with a portable pocket camera, which makes the perfect security nanny camera. It has a night vision, and motion detection, which captures details and high-definition images with IR LED lights when motion is detected. It also has a loop-cycle recording with 1920X1080P HD at 30 frames per second and a built-in 200 mah battery.
The Good
This mini spy camera is super easy to use and has wide applications. It measures 0.87in, 0.7 oz cube which is the perfect size for a spy camera and is easy to hide without attracting anyone. It also supports T-flash card up to 32 gb.
The Bad
Although this mini spy cam is T-flash ready, the memory card is not included and users noted that the resolution is poor. Plus the clip keeps falling.
PROs
Super mini
Portable pocket camera
Night vision capable
Motion detection
Loop-cycle recording
Built-in 200 mah battery
Supports T-flash card
CONs
T-flash card not included
Poor resolution
Clip keeps falling
Hidden Cameras HUOMU Mini spy cam 1080P
---
For those on a tight budget, this mini spy camera is the perfect one for you.
Product Highlights
The small mini cam records an exceptional 1920X1080P HD video at 30 frames per second. It features functions with video, picture, loop recording, motion detection, infrared night vision, and time display, magnetic. It's the perfect hidden camera with 150° wide-angle view. It has IR night vision with built-in magnet.
The Good
What's good about this product is that it supports up to 64gb of memory card and has a built-in 250 mah battery. With its WiFi capacity, you can watch live video feeds or playbacks through the app wherever you are.
The Bad
Although the device is budget-friendly, some users noted that the app responses slow. Plus, the video recording frequently freezes up and glitches.
PROs
Mini camera, easy to hide
Loop recording
Motion detection
Infrared night vision
Time display
Magnetic
150-degree wide angle
Built-in battery
CONs
Slow app response
Recording freezes
Video glitch
AREBI Spy Camera Wireless Hidden WiFi Mini Camera
---
The AREBI Wireless Hidden Spy Camera is an excellent choice for all your surveillance needs.
Product Highlights
The AREBI WiFi Hidden Camera is specifically designed with a unique hotspot (UID – Unit's Identity), which nobody can access without your authorization. Despite the small size, it includes all the useful features you require for a WiFi camera. You can access and watch live or real-time video feed or playbacks through the App anytime, anywhere.
The Good
Users love the unique hotspot (UID) of this device, where others can't access the camera without authorization. Plus, the device is WiFi ready so that you can control the device wirelessly. The camera can also record while charging as it is built-in with a high-quality 300mAh lithium-ion battery. Plus, this spy camera also has motion detection and night vision that sends notifications to your phone.
The Bad
Despite the good features and affordable price of this spy camera, some users noted that the battery of the device drains out easily when it's not plugged. Also, others complained about WiFi connection and delay recording issues.
PROs
Motion detection push alerts
IR night vision
Recording while charging
Built-in rechargeable battery
One app multiple cameras
One camera multiple users
Playback/snapshot/record remotely
HD 1080P video
150° wide angle lens
Free App without monthly charges
CONs
Battery drains out easily
WiFi connection issues
Delay recording issues
Conclusions
Nannies can really make your busy life a little bit easier. At the end of the day, you are leaving your precious little ones to their care. Thus, having the best nanny cameras for home will give you that peace of mind as you will have extra eyes to monitor your precious ones, especially when you are away from them. Choosing the best nanny cameras for home is essential. You have to consider the features you want that would meet your needs and as well as your budget too. If you're thinking of getting one, review this list so you can choose the one that suits your needs and tastes perfectly. Find out more about Nanny Cameras.