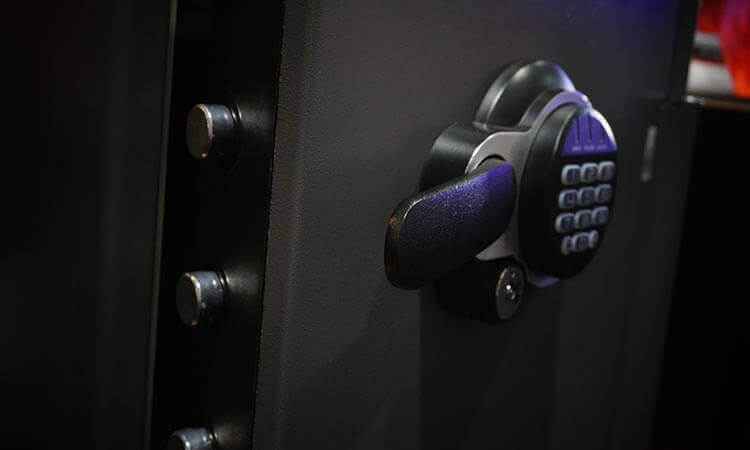 Are you thinking of purchasing a safe for your valuables like documents, guns, and other relics for safekeeping? Don't know which one to buy and which type is more reliable? In this article, I will feature the seven best fireproof and waterproof safes, along with their highlights, advantages, and disadvantages. You can choose the best for you and your valuables according to your preferences.
Comparison Chart
Detailed Reviews of the 7 Best Fireproof Waterproof Safes
SentrySafe SFW123DSB Fireproof Safe and Waterproof Safe
---
This best fireproof and waterproof safe is from SentrySafe, a company specializing in manufacturing safes of different builds.
Product Highlights
The SentrySafe Fireproof and Waterproof Safe are UL Classified to endure an hour of exposure to 1700 degrees Fahrenheit of heat, keeping the documents inside it safe and in average temperature.
It is also ETL Verified waterproof safe for 24 hours of protection from water that is up to eight inches deep. It has a preset dial combination and a secondary locking key to ensure everything is secured. The product has a steel construction and is pry-resistant.
The Good
The safe has LED lights that come when you open it, which enables you to see when you need to get something, and it is dark, or you have kept it in a poorly lit area. Furthermore, it is built to last, so it will not only withstand fire and water but also withstand time.
The Bad
The safe has a cheaply constructed handle, internal clutch, and mechanisms. The mechanisms are particularly the most poorly made because they tend to fail all the time.
PROs
Has LED Lights
Durable
UL classified Fireproof
CONs
Cheaply made handle,
Cheaply constructed internal clutch,
Cheaply made mechanisms
Honeywell Safes & Door Locks Fire-Safe Waterproof Safe Box Chest
---
The next best fireproof, waterproof safe is a chest type-safe that you can bring anywhere you want. This is the most efficient and practical type of safe that people who love travel and move from one place to another can use it.
Product Highlights
This suit type chest functions best as a document safe. But, you can also use it to store DVD's, CD's, and USB's.
The safe is UL Certified fireproof, and it can take up to 1550 degrees Fahrenheit of heat. It also has a hundred-hour waterproof seal. It has .38 cubic feet capacity, so you will have ample space to keep your documents in.
The Good
The safe works well and is sturdy. It comes with keys and is guaranteed to be the best from the company. Also, the hardware does not look flimsy or cheap, and it functions well as a safe for relevant documents and storage devices.
The Bad
There can be issues regarding the safes' actual sizes and the advertised sizes of the safe. So, you will need to manage your expectations when it comes to the sizing.
PROs
UL Certified Fireproof
100 hours waterproof
Sturdy
CONs
Sizes are not faithful to the advertised size.
Can be too heavy for travel
Does not have an additional locking mechanism for extra safety
SereneLife SLSFE14 Safe and Lock Box
---
This next best fireproof, waterproof safe is another one from SereneLife. As opposed to the former safe, this one is a lockbox.
Product Highlights
The product is made of reinforced solid steel wall construction and has dual security locking bolts, corrosion, and stain-resistant powder code finish.
Also, it is straightforward to access and is easy to install. It is equipped with a finger sensor technology that will do great when it comes to protecting your assets.
The Good
The box is made from steel, so it is fire and waterproof, which makes it the right place for you to keep essential documents and other valuables.
The Bad
The product is not high security safe, so don't expect too much from it. It also isn't pry-resistant, so if you have a million dollars or something more valuable that you need to keep protected, you won't find this safe reliable.
PROs
Has fingerprint sensors
Very easy to access
Easy to install
CONs
Not high security
Not pry-resistant
Customer service is horrible.
AmazonBasics Home Keypad Safe
---
Now we have a smaller and much cheaper safe from AmazonBasics.
Product Highlights
The product is 1.52 cubic feet and is perfect for storing relevant documents, jewelry, and other valuables. It is equipped with a keypad that can be programmed to ensure security.
It has a heavy-duty construction with two live door bolts and pry-resistant concealed hinges for superior security.
The Good
The safe is easy to use and to install. The keypad is very easy to program, and it is also a soft touch, so you won't need to use too much force to open it. It is compact, so you can hide it anywhere you want.
The Bad
The safe can arrive with a malfunctioning keypad, which means that a key can only open the safe. Also, assembling and fixing it might prove very difficult for you because it can arrive with missing parts.
PROs
Compact
Pry-resistant
Programmable keypad
CONs
Flimsy
Cannot be opened using the keypad
Difficult to assemble
First Alert 2037F Water and Fire Protector File Chest
---
The next product is a chest that will keep all your valuables safe from extreme fire or water exposure.
Product Highlights
The chest is fire resistant and waterproof. It helps keep your valuables safe, and it withstands extreme external temperatures. Furthermore, it is 0.62 cubic and can hold standard-sized folders.
The Good
This product has been sturdily built and more substantial than it looks, making it a reliable place to store all of your documents and essential electronics. It is also sold at a very affordable price, so you won't have to worry about your budget.
The Bad
The safe is not waterproof and fireproof. It is fire-resistant and water-resistant, though. Upon receiving it, it comes with a warning label telling you to put the documents in a waterproof container before putting it into the safe.
PROs
Heavy duty
Sturdy
Well built
CONs
Too simple
Not pry-resistant
Not waterproof
TIGERKING Digital Security Safe Box
---
TIGERKING's Digital Security Safe Box is perhaps the most stunning in this list of the best fireproof, waterproof safe box.
Product Highlights
This product has a robust construction that is made of thick steel material to ensure long-lasting protection for your valuables. It is equipped with a digital lock with manual override and is one of the most reliable safes in the market.
The Good
The safe is very elegant and has very sturdy hardware. It is also equipped with a programmable keypad or Lock that you can manually override if in case you lose the password.
The Bad
The safe becomes unresponsive after some time, and the instructions are very vague. So, you will have to be equipped with prior knowledge if you decide to buy this safe, or you need to have someone who knows how to deal with safes if you are opting to buy this one.
PROs
Friendly price
Elegant design
Innovative keypad
CONs
Goes dead after a few months
Keypad becomes unresponsive
Not fireproof
SureSeal by FireKing SS104-A 1 Hour Fireproof Waterproof Safe Chest
---
The last best fireproof, waterproof safe is from FireKing. It can last two hours underwater and 1 hour fire protection.
Product Highlights
This safe chest has dual compression latches to secure the locking of the chest. It has a 7-year warranty and a lifetime after-fire guarantee. It is also UL class 350 fire rated and it can float on water. It is also designed for optimum security, so you won't have to worry about your valuables.
The Good
The safe arrives on time, and it is in mint condition once it arrives. Also, it is sturdily built and offers various sizes to accommodate your needs.
The Bad
The cylinder lock included is not very secure. The small sizes cannot fit a 8 ½" X 11" paper without folding it.
PROs
Comes in different sizes
Fireproof and Waterproof
Sturdy
CONs
Basic cylinder lock
Small size cannot fit letter size paper.
Conclusions
If you need a place for your valuables to keep them safe from fire and water and from getting stolen, the best fireproof, waterproof safe is for you. It will keep your belongings safe from any mishaps and give you the peace of mind you need when you are not around or when something terrible happens. In this article, I introduced seven of the best fireproof, waterproof safes in the market, and it will be up to you to choose which one will suit your needs. Here's how to learn more about Fireproof Safes.